A Complete Guide to Driving
Electric & Hybrid Cars in the 21st Century.

01.

An Introduction To Electric & Hybrid Technology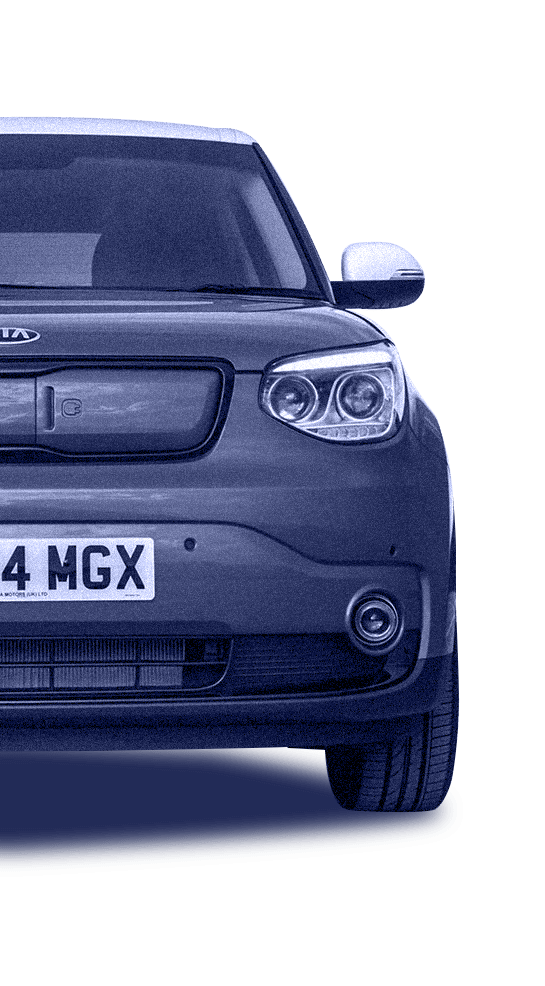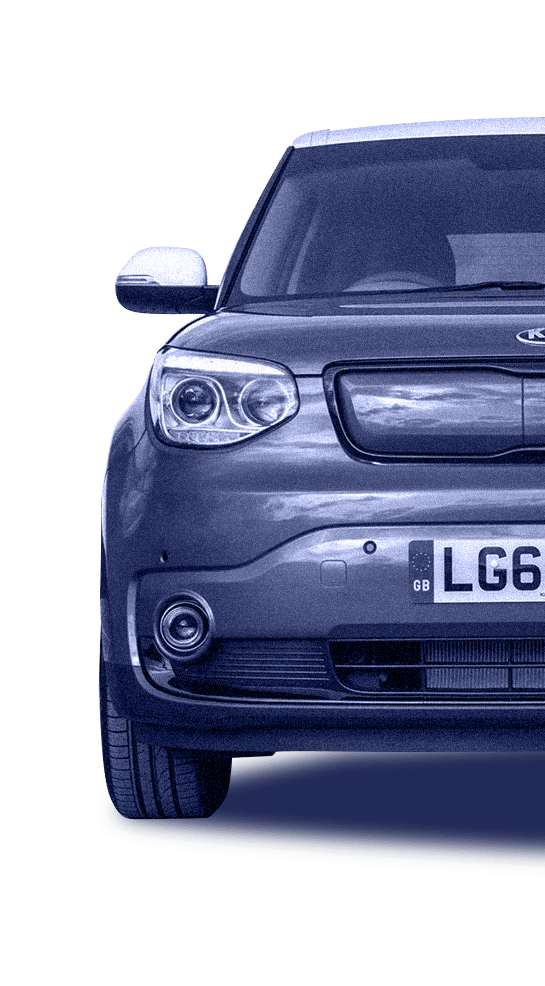 We've been hearing how electric and hybrid technology will transform the car industry for some time. Not so long ago, you had a limited choice of cars if you wanted to buy one. Now the choice has increased with the improvement of modern technology, will car buyers take note?
The environmental
impact of cars
It's no secret that driving a car isn't great for our climate. Through their construction, use and disposal, cars impact the environment. In the UK, road transport is one of the biggest sources of pollution. Air pollution from cars includes nitrogen oxides, particles, carbon monoxide and hydrocarbons – all of which can have a damaging impact on the environment and our own health.
Road transport also accounts for 22% of total UK emissions of carbon dioxide (CO2), due to the fuels burnt as we drive. This gas is a major factor in climate change, because it contributes to the greenhouse effect. This occurs when heat is trapped by the atmosphere, causing the planet to warm at a greater rate. Global warming has resulted in the ice caps melting faster in the Arctic and Antarctic, rising sea levels, and changes to animal habitats.
Breakdown of C02 Emissions Produced Over a Car's Lifespan
You might have seen the new colour-coded labels used in car showrooms. They indicate how much CO2 new models emit per kilometre.
With the rise in electric and hybrid cars, there's the opportunity to make a real difference to how much our driving contributes to climate change.
Finding cleaner ways to travel is a huge part of reducing our impact on the living planet. To keep enjoying the benefits of driving – such as increased freedom, independence and convenience – we have to make efforts to futureproof the technology cars rely on.
How electric and hybrid technology works
With all the terminology out there, it can be difficult to understand what different cars offer, and how they differ to petrol and diesel engines.
Hybrid
Hybrid cars work by using a combination of electricity and fuel – typically petrol – to power the vehicle. The exact set-up will vary between cars, but most can charge their own batteries by using the engine. This might be the only reason the engine is there, or it might work alongside the electric power.
Examples: Toyota Prius Hybrid and Kia Niro
Plug-In Hybrid
Plug-in hybrids can be connected to the National Grid to charge their batteries, as you would with an electric car. This gives the car electric-only range and reduces its reliance on the fuel engine.
Examples: VW Golf GTE and Audi Q7 E-Tron
Electric
Electric cars run on electric power only. It's stored in batteries before being used by the motor to drive the car forward. Electric vehicles need to be charged up to work – this can be done with an ordinary 3-prong plug, but most EV owners install a specialised plug at home.
Examples: Nissan Leaf and Renault Zoe
Fuel Cell
Fuel cell cars combine hydrogen fuel with oxygen to produce electricity, which powers the vehicle. The only emission produced by driving the car is water. Currently, hydrogen comes from natural gas and a fair amount of energy is needed to produce the fuel.
Examples: Hyundai ix35 and Toyota Mirai
Did you know that back in the early 1900s, most cars were powered by electric batteries or steam? It didn't take long for the internal-combustion engine to take over, however, and by around 1935, electric cars were few and far between.
Interest didn't grow again until the 60s and 70s, largely due to concerns over pollution. For example, BMW's 1602 E was showcased at the 1972 Summer Olympics in Munich. With 12 batteries, it had a top speed of 62 mph and a range of 37 miles.
In the US, Sebring-Vanguard were producing popular small commuter cars, called Citicars. With a normal cruise speed of 38 mph, and a range of 50 to 60 miles, the car (and models which followed it) was the most-produced American electric car until 2011. It'll be no surprise to many that the Tesla Roadster was the one to surpass it.
Photo By BMW
In the US, Sebring-Vanguard were producing popular small commuter cars, called Citicars. With a normal cruise speed of 38 mph, and a range of 50 to 60 miles, the car (and models which followed it) was the most-produced American electric car until 2011. It'll be no surprise to many that the Tesla Roadster was the one to surpass it.
Photo By

Citicar
Other notable developments in electric and hybrid
technology include:
Photo by RightBrainPhotography (Rick Rowen)
The GM EV1.
The EV1 was the first electric car to be mass-produced in the modern era by one of the major car makers. It's likely this move was in some part inspired by requirements from the California Air Resources Board (CARB). They wanted manufacturers to develop zero-emission vehicles to continue marketing in the state.
Photo by OSX (Wikipedia)
The Toyota Prius.
It's largely agreed that the Prius, as one of the first mass-produced hybrid-electric cars, is a bit of a statement. It's the car you buy if you want to make an environmental statement – credentials which have been sharpened over the years. Since being available worldwide in 2000, Toyota has sold more than 6 million Prius cars.
Photo by Jp Valery
The Tesla Roadster.
It was back in 2006 when news of Tesla's plans for a battery-powered car with a 200-mile range first hit. Fast forward to 2011, and the Roadster could do 240 miles per charge.
Photo by Sergii Chernov
Reducing cost of batteries.
According to a McKinsey report, battery costs have fallen from approximately 1,000 per kWh in 2010 to an estimated $227 per kWh in 2016. Prices are predicted to fall further too, which will help bring down the costs of electric cars and make them accessible to more people.
Photo by Science Photo
Battery developments.
It's not just the price that's changing, it's the performance. Batteries are getting increasingly efficient, and the best is yet to come. In a 2018 paper, chemists from the University of Glasgow explained how they've developed a way of utilising nano-molecules in batteries to store either electric power or hydrogen gas, and release it on demand. Electric cars could be recharged in seconds.
Photo by Estations
Electric charging infrastructure.
With the growing demand for electric cars, there's a pressure to have places to charge up. As of July 2018, there were around 17,400 public charging points in the UK. To keep up with demand, the 2017 budget included another £400m of funding for charging points.
02.

Owning an Electric or Hybrid Car
If the technology sounds impressive to you, you'll probably be interested in the practicalities of owning an electric or hybrid car. Does it cost more? Where can electric cars be charged? What are hybrids like for day-to-day driving? There are a lot of questions around how they differ to the cars we're used to and rely on.
The current landscape of petrol, diesel & alternatives
The car market has been dominated by petrol and diesel cars for some time. But change is coming. In 2019/20, there seems to be both greater uptake of alternatively fuelled cars and a decline in cars reliant solely on petrol and diesel. Overall car registrations for the year 2020 were down, but it does show a trend towards alternatively fuelled cars.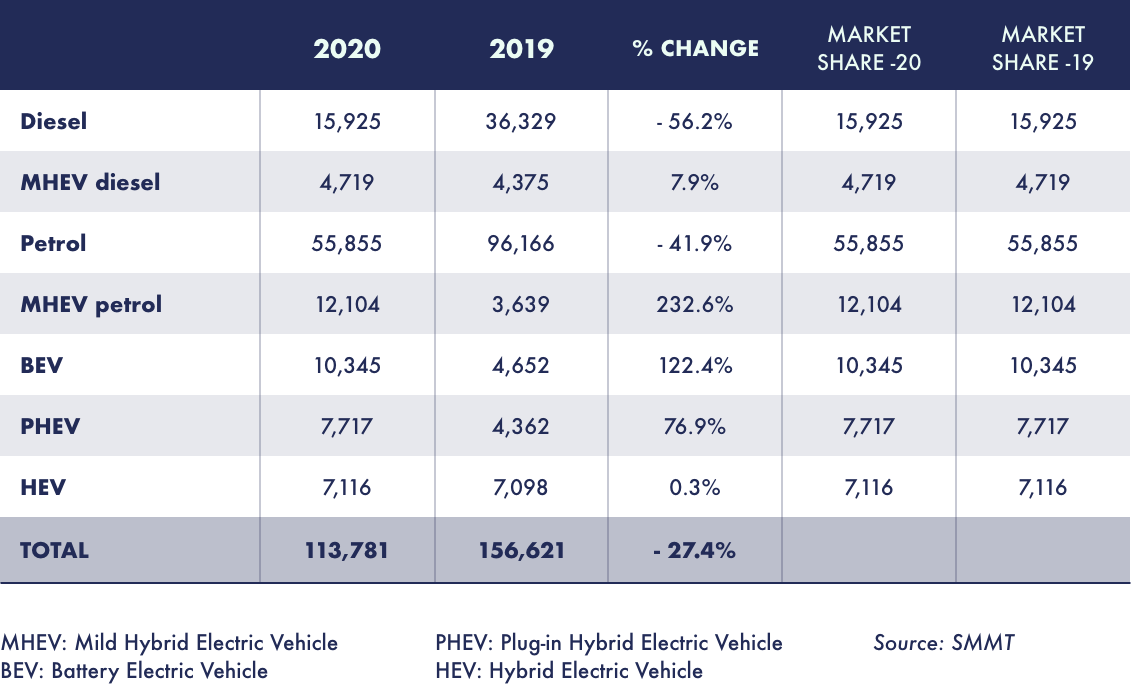 One of the biggest changes in recent years is the declining sales of diesel cars – they used to dominate the market with over 50% of sales in 2014. Back in the 2000s, the government changed road tax to a CO2-favoured system. It benefitted diesel cars, as they generally emit less CO2 than petrol cars, leading to people buying more of them.
The recent decline is largely due to a bit of bad press – exaggerated in no small part by the Volkswagen scandal – about the air pollution caused by diesel engines. It turns out that focusing on CO2 emissions failed to take into account other impacts, including the release of particulate matter (PM) and the following nitrogen oxides (NOₓ):
Nitrogen Dioxide (NO₂)
Greenhouse Gas Nitrous Oxide (N₂O)
Nitric Oxide (NO)
For consumers who believed diesel cars weren't just a way of cutting your car tax, but the better choice for the environment, it was frustrating.
The car industry responded with a campaign launched in March 2015 by the Society of Motor Manufacturers and Traders (SMMT), seeking to "challenge the increasing demonisation of diesel" vehicles. They promoted the credentials of the new Europe-wide Euro-6 standards, which came into force in September 2015, and limited NOx emissions from new diesel cars to 80mg/km – a figure halved compared with the previous standard, Euro 5.
But the push for further improvements continues as the car industry juggles improvements to petrol and diesel engines along with developing new electric and hybrid offerings. The landscape is ever-evolving. As consumers, we're responding well to the introduction of alternatives across Europe.
Plug-In Car Registrations First Half 2018
Commitments from car makers
With the tide turning in favour of more environmentally-friendly ways to travel, it's in the interests of car makers to commit to bringing out more electric and hybrid options. It's something most – if not all – manufacturers are investing in heavily.
Here's just a few examples:
Tesla
Tesla, the company which focuses its entire business on battery-powered cars, has started selling its first 'budget' electric car: the Tesla 3.
Ford
In 2018, Ford announced big plans to offer 13 new EVs – including hybrids – within the next five years. Perhaps the most interesting is an electric SUV with a 300-mile range per charge.
Jaguar Land Rover
From 2020, Jaguar Land Rover plans for all its new models to be hybrid or electric.
Audi
Audi has promised 30% of its sales will be partially or fully electric cars by 2025, including a sporty car they're calling the ID by 2020.
Volkswagen
Volkswagen, arguably the car maker with the most to prove after the emissions scandal, announced its plans to bring out 30 battery-powered electric cars by 2025. It's vowed to create electric versions of 300 of its models by 2030.
Daimler
Daimler, who own Mercedes-Benz, recently accelerated its efforts in electric technology and plans to have 10 EVs released by 2022.
There's also certain requirements for car makers to meet in different countries. In July 2018, the UK released its 'Road to Zero' plan to reduce vehicle emissions. Part of this was a pledge that half of all new car sales will be hybrid or electric by 2030. These cars must qualify as ultra-low emission, which is defined by the government as a vehicle which emits less than 50g of carbon per kilometre travelled. The goal is to end the sales of what they call "conventional" petrol and diesel cars and vans by 2040.
Across the world, it's positive to see many countries working towards reducing – or eliminating – the reliance on fuels. Different countries have varying timelines.
Norway
Plans to end sales of petrol and diesel cars by 2026. The country has an impressive record with alternatively-fuelled cars so far, with almost 40% of newly-registered cars being hybrid, electric or hydrogen in 2017.
India
Plans to end sales of petrol and diesel cars by 2030.
Scotland
Plans to phase out petrol and diesel cars by 2032.
France
Plans to end sales of petrol and diesel cars by 2040 – similar to British plans.
Germany
Chancellor Angela Merkel hinted it's only a matter of time before the country follows suit with the above. "I cannot name an exact year yet," she said, "but the approach is right, because if we quickly invest in more charging infrastructure and technology for electric cars, a general changeover will be structurally possible."
Source: Vox
Incentives for buying electric or hybrid cars
It's not just car manufacturers backing electric and hybrid technology. The UK Government believe it's the future too, and have been making efforts to ensure it's easier – and more affordable – for us to invest in alternatively-fuelled cars. There are a number of incentives to encourage people to see electric and hybrid cars as a viable option.
The UK Plug-In Car Grant
You can get a discount of up to £3,500 on the price of new low-emission vehicles through a government grant. The discount is automatically applied by car dealers, so you don't have to do anything. It works as follows:
Cars
For electric vehicles with CO2 emissions of less than 50g/km and the ability to travel at least 112km (70 miles) without any emissions at all, the grant pays 35% of the purchase price (up £3,500). This includes the Kia Soul EV (see above) and Renault ZOE.
Vans
For vans with CO2 emissions of less than 75g/km and the ability to travel at least 16km (10 miles) without any emissions at all, the grant pays 20% of the purchase price (up to £8,000). This includes the Citroen Berlingo, Mitsubishi Outlander Commercial and Renault Master ZE (see above).
There are also discounts on motorcycles, mopeds and taxis. For more information, including a complete list of all cars, see GOV.uk.
All the cars that currently qualify tend to be fully electric. A plug-in hybrid could technically produce CO2 emissions lower than 50g/km and be capable of travelling for 70 miles on electric power, but the technology isn't that advanced yet.
The idea of the grant is to provide a cash incentive and encourage more people to buy cars that'll help the efforts to reduce emission and improve air quality. When this grant was first released, it also applied to hybrid cars and had a greater maximum discount, but there was a concern over whether buyers just wanted to save money initially, but then not use the hybrid element to cut down on emissions.
Even with the changes to the scheme, there continues to be an increase in the number of electric and hybrid cars both for sale, and being sold. The government has confirmed it'll remain in place until at least 2020.
The Electric Vehicle Homecharge Scheme (EVHS)
Although you can charge most electric cars through the existing sockets in your home, it's much slower than a specialised chargepoint. It's another cost to factor into the price of getting an electric or plug-in hybrid car. As such, the government provides funding of up to 75% towards the cost of installing electric vehicle charge points in homes across the UK – including for cars which no longer qualify for the plug-in grant.
Scrappage Schemes
The government isn't running its own scrappage scheme, but money is available to local councils through the £220m Clean Air Fund if they would like to run their own.
What's more exciting, though, is the manufacturer-led scrappage schemes aimed at helping people with older vehicles who want to upgrade to a cleaner car. You can knock thousands off the price of an electric or hybrid car – usually more than your car might be worth if you sold it second-hand.
And the uptake has been great, according to manufacturers. For example, a Lexus spokesman told The Press Association:
"Around 60% of our retail sales in October and November [in 2017] saw customers taking advantage of our 'Make The Switch' offers on Lexus self-charging hybrid vehicles."
Choosing the right car
for you
If you're interested in an electric or hybrid car, that's great news. Knowing where to go next, though, can be difficult. To choose a car that's going to be right for you, think about the following things.
What type of journeys you do regularly.
If your typical journeys are short, then fully electric cars would be ideal. That's because, although range has improved drastically on EVs over time, they are generally limited to around 60-70 miles before needing another charge. To compare, plug-in hybrids typically have a 30-40 electric power range, before falling back on the fuel tank. This could provide an extra 200-300 miles. The electric Tesla Model S is an exception, though, travelling over 150 miles between charges. Expect further improvements to available models.
How much space you need.
Choosing a new alternatively-fueled car is similar to any other car purchases you've made before. You've got to think about how many people you'll be likely to transport, and what other storage needs you'll have. A more environmentally-friendly choice of car still needs to deliver on the essentials you need. With the choice available now, there's no need to compromise on the practical demands of modern day driving.
Whether you have off-road parking.
If you want an electric or plug-in hybrid, you'll need somewhere to charge it. For some homes, this will be a problem, as there might not be space off-road.
How important other features are.
Specs can make a huge difference to car ownership. Most features are designed to make your life easier, or more comfortable. Different cars, or models, will vary what they offer. Think about extras like sat-nav, parking sensors, entertainment systems, and leather seats, as well as safety features such as blind-spot monitoring, lane departure warning and automatic emergency braking.
Where you regularly drive.
Think about where you normally go. Do you spend most of your time driving around town or city centres? Your needs will be different than if you live and work remotely, spending more of your time on quiet, but potentially damaged, roads. It could affect the size of car and fuel type you'd need, as well as features you prioritise.
How much you want to reduce your carbon footprint by.
The environmental benefits you can expect vary between different cars. Electric cars are the most accessible option for the greatest reductions in emissions currently, but some people find hybrids more practical.
What your budget is.
Most of us will be somewhat restricted by our budget. There are amazing finance arrangements available nowadays, but it's important to start with a price you want to pay. This might influence whether you're looking for a new or used car. Both have benefits:
New Cars
Peace of mind from the manufacturer's warranty (at least three years)
Choose and modify the spec which suits your needs
Used Cars
Used cars are cheaper, and the original owner will have taken the initial hit of depreciation
Approved used cars often come with added assurances from manufacturers, as well as after sales care from car deals
How much your running costs will be.
Luckily, this isn't too much of problem with new electric cars because you'll pay nothing on road tax for zero-emission models. If you have a new hybrid, you'll get £10 off the annual tax. There are other costs to think about, though, but they can be much lower than petrol or diesel cars, as shown with these two electric cars:
Renault Zoe Q90 i-Signature
Renault Zoe Q90 i-Signature
£27,320
'On the road' price
(which includes the Govt. plug-in grant)
£1.44
Journey fuel cost
(based on 35-mile daily journey)
4.1p
Cost per mile
(based on home electricity costs of 14p per kWh)
KIA e-Niro First Edition
KIA e-Niro First Edition
£32,995
'On the road' price
(which includes the Govt. plug-in grant)
£1.47
Journey fuel cost
(based on 35-mile daily journey)
4.2p
Cost per mile
(based on home electricity costs of 14p per kWh)
Source: Zap Map
Once you've got a shortlist of cars you like, make sure you take them on a test drive. It's the perfect chance to get the feel for different models, and how they compare on the road.
Can you drive in a more environmentally-friendly way?
If you don't need a new car just yet, there are things you can do to minimise the impact of driving, including:
Avoiding sharp acceleration and heavy braking
Only transport heavier items when you need to
Keep up to date with services and MOTs to maintain your car well
Switch off your engine if you're in stationary traffic
Plan your route to minimise the time you're stuck in congestion
Car share when possible
03.

What The Future Holds For The Car Industry
The car industry can move at a rapid pace. Car makers are always working on the latest technology to outperform their rivals. What will car ownership look like in a decade and beyond?
We've all heard the hype around self-driving cars, but we've also seen what happens when the technology goes wrong. Uber has halted its self-driving operations after a fatal crash in Arizona, when the car spotted a pedestrian but chose not to react. The back-up driver was on her phone at the time.
With the promise of huge improvements to the way we travel, efforts to improve and refine the technology used have intensified. For example, in 2018, Uber and Volvo announced $300m plans to develop self-driving cars and cabs. "Uber's mission – to provide transportation as reliable as running water, everywhere for everyone – is not possible without moving into this kind of technology," Travis Kalanick, the chief executive, told the Financial Times.
In 2017, Volvo launched a self-driving car development program in Sweden, called Drive Me, using Volvo XC90 plug-in hybrids with driver-assistance technology, cameras and sensors. Back in the UK, the GATEway project invited the general public to take part in a driverless pod shuttle service trial around Greenwich. The pods used state-of-art autonomy software, detecting and avoiding obstacles to pick up and drop off passengers around a 3.4km route. You can find similar projects around the UK:
Hybrid
The Autodrive scheme, which took place on roads in Milton Keynes, happened over three years and culminated in autonomous driving reaching top speeds of 25mph and lasting ten minutes. It was impressive because, unlike repetitive grid-like roads in the US, the cars successfully navigated the UK's arguably messier set up.
Plug-In Hybrid
Driverless cars, dubbed CargoPods, were used to carry groceries on a 3km route around a modern housing estate next to the River Thames in East London. It completed 100 deliveries during the trial.
The UK wants to be at the forefront of this development, actively encouraging self-driving tests, and the government believes the industry will be worth £28 billion by 2035.
"The automotive sector is on the cusp of a revolution. The development of increasingly connected and autonomous vehicles (CAVs) brings the potential for truly transformative change in the way people and goods are transported, offering significant improvements in safety, efficiency, mobility, productivity and user experience."
Source: Market Forecast for Connected and Autonomous Vehicles
How could car ownership change?
You might have noticed a dispute emerging amongst car makers and the tech industry. It's an interesting one. Will we rely on self-driving cars? Will we even need our own cars, if we can request a ride that will arrive in minutes? Or do we like owning cars?
For some, including chief product officer at Uber, Jeff Holden, car ownership is inefficient. It's expensive and time-consuming to take care of the maintenance. It would be easier, they suggest, to rely on short-term leases or taxis. Of course, a lot would have to change if things were going to work this way – we'd need much greater access to taxis, for instance.
Others, including Subaru's American president Tom Doll, believe people would continue to own or lease their vehicle in the way we already do. "For real people, swapping out a car, getting all their stuff out – the pens, papers and dog hair – it's a pain. Most people still want to have a longer-term relationship with just one or two cars in the driveway. It's easier and simpler that way," he said at the Chicago vehicle show.
It's clear the future will rely heavily on electric and hybrid cars, but how we own them is yet to be seen. For the immediate future, there's plenty we can do to improve the uptake of low-emission vehicles, including:
Exploring ways to reduce the costs.
Purchase prices continue to be the main obstacle to owning electric or hybrid cars. Whether it's incentives or a reductions in the costs of raw materials, it's important savings are advertised to potential. People are becoming increasingly aware of the need to reduce their impact on the environment, but they've also got to know about the ways they can achieve this affordably.
Increasing awareness and understanding about alternatively-fuelled cars.
In 2017, the AA found one of the most frequently cited reasons for a decline in new car sales over the last 8 months was 'mixed messages from the government over what fuel-type to buy' (13%). This was discussed at LowCVP's annual conference too, because people know pollution is an issue, but they're unsure of what to do and it's delaying car sales.
To make an informed choice, it's important to do your research. Check out the following links for more details: